Crown
The main part of the cap that fit the top of head, also the main part with embellishment on front panel, such as embroidery, print, woven patch, applique and etc...
We can make high profile, mid profile and low profile according to customer's design.
Structured cap: the two front panels are stiff reinforced with a buckram inside.
Unstructured cap: the two font panels are soft.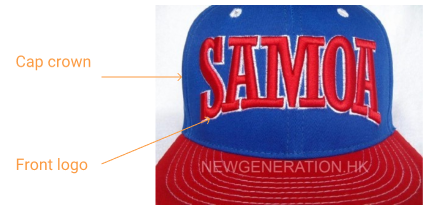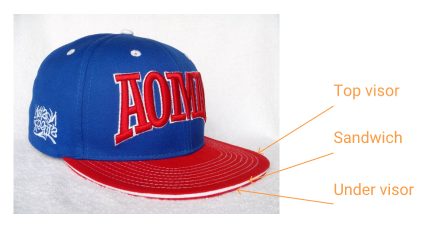 Visor
The part protection from the sun, it's flat or curved visor according to cap design.
The inside material is plastic, two layers fabric covering on top and bottom.
Top visor and Under visor also can be customized with embroidery or print.
Along the front edge of the visor, can also add sandwich fabric between the top and the bottom fabric.
Normally, it's contrasting color or with printing.
Eyelet
The small holes around the top of crown, called eyelets, make the cap more ventilated.
The eyelets can be made by embroidery in the color of your choice or metal material.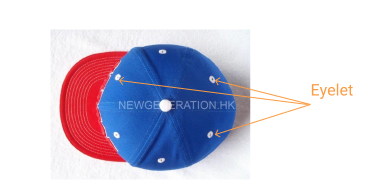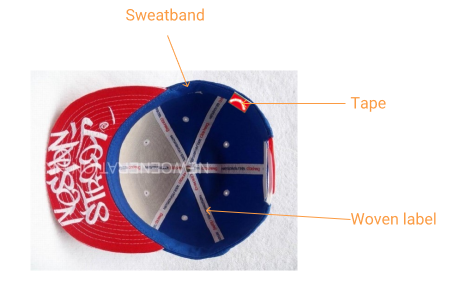 Sweatband
The banding around the edge of inside of the crown, can absorb sweat when wearing the cap.
Normally, the material of sweatband is cotton or quick dry material and in dark color, also can be printed.
For flex style cap, the sweatband is elastic material.
Tape
Small banding inside the crown, to cover the seaming of each panels. It's T/C fabric, also can be printed.
Woven label
Customized woven label are sewed on sweatband.
Care label
Washing instruction of custom cap, it's a small printed label and sewed inside of the sweatband and can be customized as well.
Lining
The additional fabric inside the crown, to make the cap design more fashion.
Lining can be made in different material with allover print.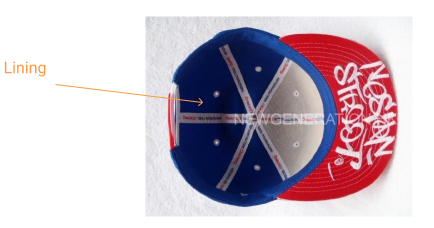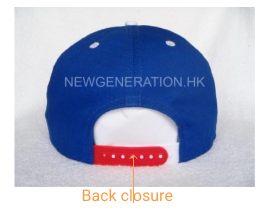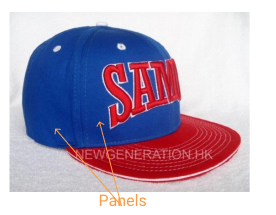 Closure
There're multi-style closures for adjustable caps, such as 7 holes plastic snap, leather/self-fabric strap with metal buckle, velcro and etc…
For fitted and flex styles, there's no closure on back.
Panels
Fabric pieces are sewed together.
The panels of different style/shape caps are not same depending on the style of headwear.
5 panels and 6 panels caps are more widespread according to designs.